When I first approached learning a new language, I came across some great advice to speed up the process; learn the 1000 most common words used in that language. It won't make you fluent, but it'll definitely help you get by. Similar to the 80/20 rule, you'll find in life that we only use 20% of our vocabulary to construct 80% of everyday conversations. So I went off to figure out the most common words and try to learn all 1000 of them. The start was difficult, I didn't have a system to help me memorise each word and my memory failed me at times. Countless times. Who do I blame for that? My deteriorating brain? At the time of writing this I'm only 28, so that can't be the reason— at least I hope not! After doing a bit of research and figuring out how to improve my memory, I came across a technique that helped improve it dramatically. This technique is something that we've all been aware of at a very young age, it is none other than the use of flashcards.
Before you roll your eyes and switch over to another article— hopefully another one of mine— I'm not talking about those flashcards that your teacher would show to you during your time in nursery. I'm talking about a specific software that takes flipping cards to a whole new level. Anki is an open-source software— that means it's free of charge! Their slogan is,
"Powerful, intelligent flashcards. Remembering things just became much easier."
Each digital card is fully customisable. You can add images, audio files, videos, whatever you can think of! As Anki phrases it, "the possibilities are endless." Before I go into the benefits of flashcards and why Anki is a reliable tool. I thought it would be best to share my experience so far with the software.
How I've been using Anki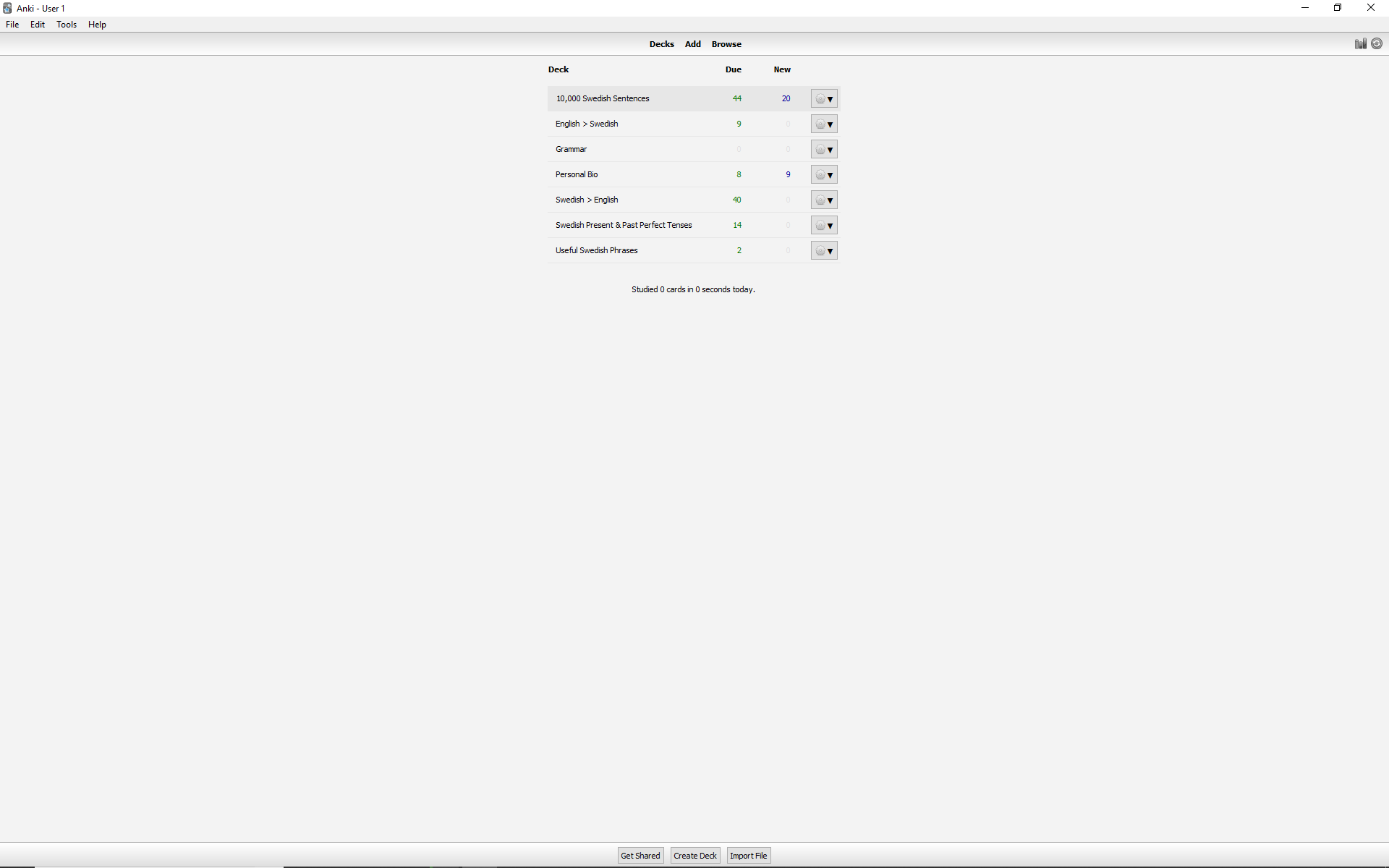 The image above is my homepage for Anki. Every flashcard sits in a deck, think of it as a folder, a place for you to organise all your cards. You'll notice that I have quite a few decks in my account. I've come a long way from only memorising the 1000 most common words. I've added new decks that focus on a variety of topics. Now that I've become more comfortable with individual words I'm trying to become comfortable with useful phrases as well, another practice that is known as sentence mining.
With a tangible deck of cards, you have to write the question on the front and fill in the answer on the back. With Anki, you have to do the same thing but in digital form. However, each card is fully customisable giving you the freedom to be creative in your learning. Want to add an image to remind you of the answer? Or add an audio snippet of someone speaking the language? The possibilities are endless and it's really down to how you want to use Anki for your own learning experience.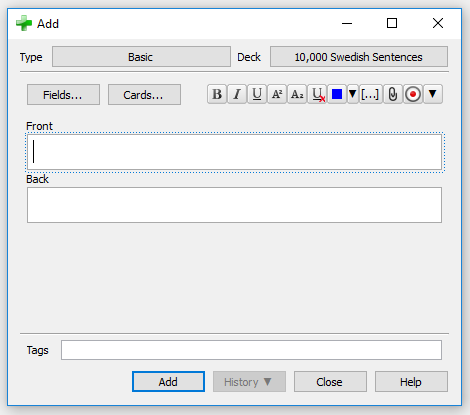 It can get tedious filling in each card, especially when you have to enter in a 1000 new words. What I found most useful with Anki is that there is a community of learners that are willing to share their own decks. At the bottom of the home screen is a little button labeled, 'Get shared'. Once clicked on, you are navigated to a new window and presented with a search bar that grants you access to trawl through their database of popular decks. A simple search of the word 'Swedish' came up with 50 results of detailed decks; I downloaded three of them! I would recommend you try out this feature, there's an endless amount of free resource that you can take advantage of. I even typed in the word 'Geography' to see what would pop up, there is a community for almost every topic of learning.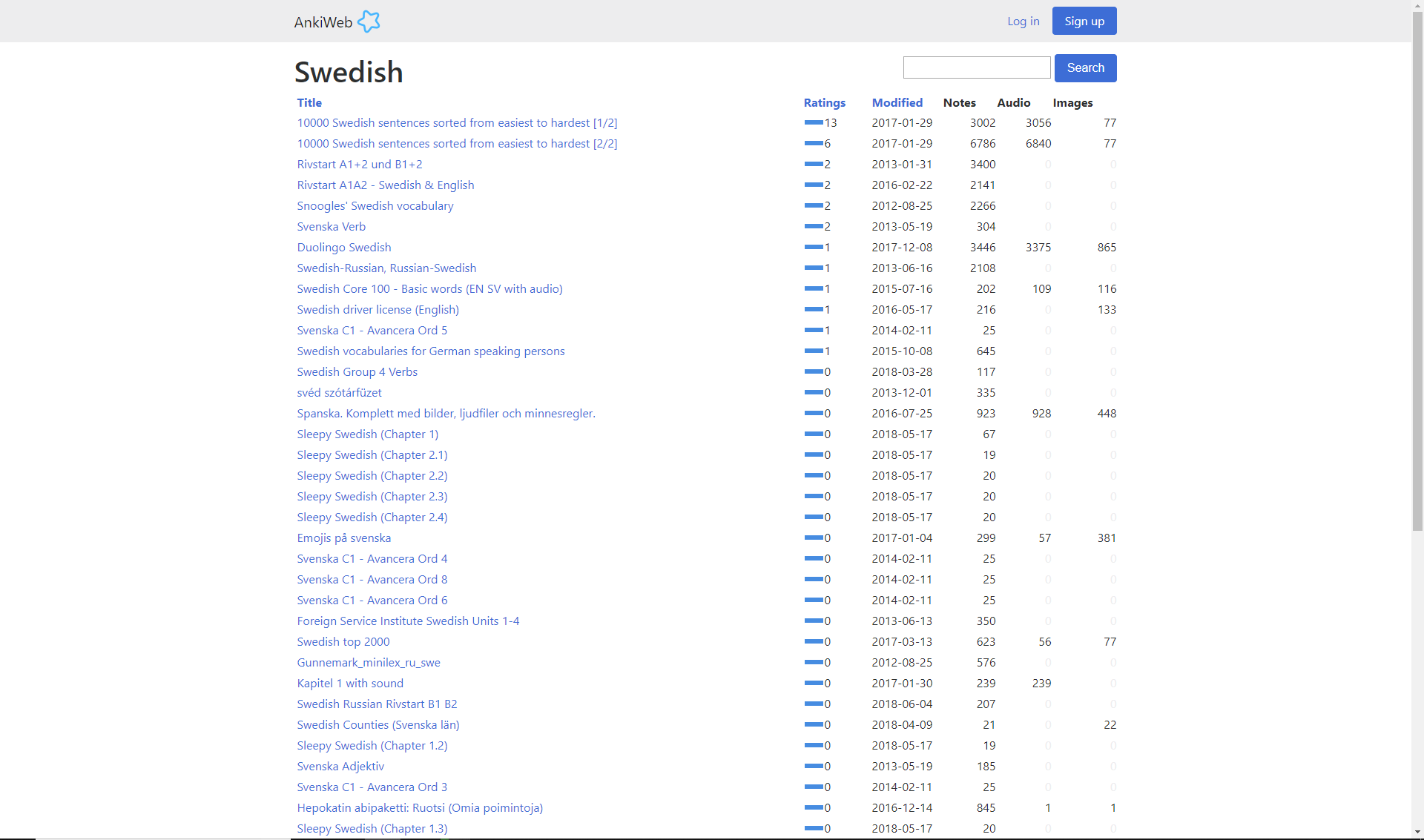 Another feature that I am quite fond of is the detailed statistics for each deck. I am a man who enjoys looking at statistics (some of you might think of me weirdly now) and seeing the visual representation of small improvements. With that being said, Anki provides updated statistics for every deck that you can go through. Below is a screenshot of my progress with the 1000 common words deck. I've been using this deck for just over 5 months now, you'll notice that I'm quite confident with 674 words and I'm still new to 131 of them. I do find this feature useful, getting instant feedback and knowing that I am progressing gives me comfort and motivates me to continue. Being able to say that I'm confident with over 600 new foreign words goes to show that I've come a long way. Before using Anki, my memory was all over the place, but after committing to going through the decks every day, I can clearly see an overall improvement.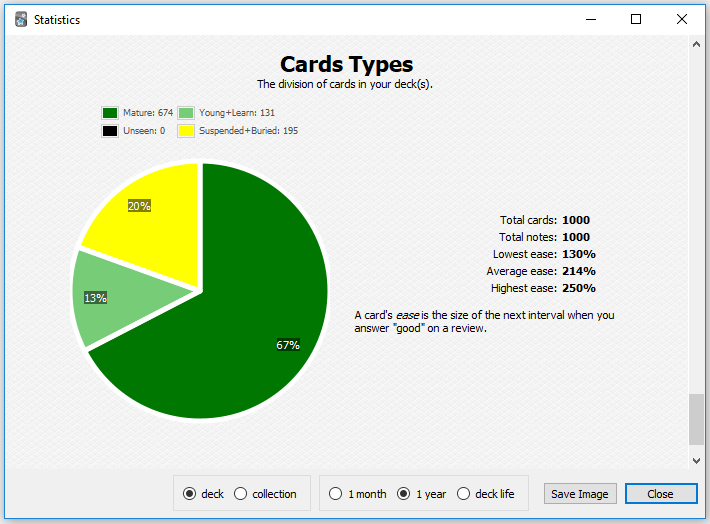 How does it work?
So how exactly have I been able to learn hundreds of new words and phrases? Well, there is some science to using Anki and I hope that by now you can see that it does work.
Spaced Repetition Systems
Remember when I told you that my memory sucked when I started learning a thousand new words? Well it turns out I wasn't the only one (phew!). Say I gave you 10 new words to remember, studies show that our memory rapidly declines as the days progress. By the end of the week, you'll probably only remember 2 of them! The famous forgetting curve graph depicts how our memory deteriorates over time.
In order for us to combat our forgetful memory, we need to introduce a technique known as the spaced repetition system (SRS). This technique is pretty simple, you repeatedly review the information over a certain amount of time to allow the mind to absorb all of it in. The mind retains more when we regularly revisit the information. As the forgetting curve shows, trying to cram everything in one sitting isn't productive, as you'll eventually forget all of it by the end of the week. Having a system where you're able to review the information at set intervals will make your memory last longer.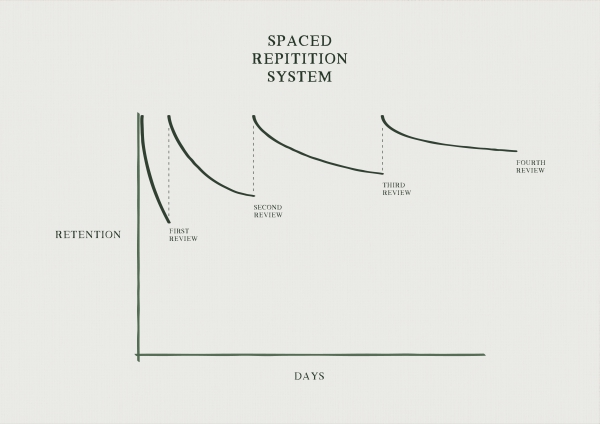 That's where Anki comes into play. The software includes its own algorithms that figure out when it's time for you to review a specific card. It can tell when I'm not as confident with a card and let that surface more often than other cards that I have no trouble with. Also, don't expect to go through the entire deck in one sitting. Anki understands that cramming everything in one day doesn't make sense and it staggers the learning process. What does this mean? It means you'll only be learning 10-20 new cards per day, and the remaining time is spent going through all the other cards that you've previously been exposed to. It took quite a long time for me to see all 1000 new foreign words.

As you can see from the photo above, if I got the answer wrong it'll let me revisit the card within 10 minutes. If I found it easy, I'll revisit the card in 8 days time. Anki's algorithm changes depending on each card. There are cards where the only option available is to review it within 1 minute, others where I will review it in 9 months time. Having this spaced repetition automated makes the whole learning process a lot smoother. Sure, you can use real flashcards, but to figure out when is a good time to revisit each card can get quite complicated. I'd rather let Anki figure that out for me; I've already got enough on my plate as it is!
Active Recall
Did you ever have a method to prepare for an upcoming exam? I remember mine. A week leading up to my GCSE's (end of secondary school exams) I would spend the majority of my days locked away in a quiet library. I would skim read a few books, underline 'important' information, transfer the notes to my notebook and then read them over again. I'd do this until lunchtime, take a break and then repeat until the end of the day. I realise now that this form of revision wasn't the most effective way of learning, maybe that's why I only ended up with 1 A, 5 B's and 4 C's (still, not bad!).
Reading books, listening to lectures and watching videos are all considered as a passive form of learning. This is not to say that it doesn't work, but it's not the most effective. Remember the saying, 'in one ear and out the other'? That generally happens when the brain is placed in a passive state. Active learning— also known as active recall— is when you constantly challenge the brain, making it work by retrieving the information.
How do you promote active recall? By constantly quizzing yourself on the answer. How do you do that? Isn't it obvious by now? Every flashcard you interact with is getting you to actively recall the information stored somewhere in your brain. You're constantly testing yourself and making the brain work, because of this, the information slowly moves from short-term into long-term memory, making it easier for you to recall the information. I wish I knew all of this when studying for my GCSE's; I could've gotten more A's!
What else will I be using it for?
It's amazing to see how such a simple tool can help improve the mind dramatically. I guess there is a lot of truth to the phrase, 'less is more'. I hope this article has shown you just how important— if used properly— the use of flashcards are. What I do want to stress is just how important it is to remain consistent in your learning. Being lazy with your flashcards will get you nowhere, your progress is determined by the actions you take consistently. Don't expect your memory to become superhuman in a matter of weeks either, these things take time, but it's a hell of a lot quicker than reading a book and cramming it all in.
Just remember, Anki can be used for just about anything. Currently, I've been using it to learn a new language, but I know Anki is a tool that I will continue to use whilst learning other skills. The next skill on my list is to learn piano, I'm certain I'll be making new decks to help me memorise piano chords. Being creative when building your decks will help the process of learning more enjoyable. It can get quite monotonous flipping a card and seeing a word pop up on screen. Add a few images, insert sounds, it helps to be creative. One thing is for certain, by using Anki it will help improve your memory, which is important for when you're learning any new skill. So how do you plan to include Anki in your learning?
Want to see how Anki helped me learn a new language? I surprised my girlfriend by secretly learning one of her languages and surprising her on her birthday. Every day leading up to the event I was on Anki building up my vocabulary. I wouldn't have been able to do this without the software.